EVERY organization, EVERY executive, EVERY individual, and EVERY object is now on a digital journey. Organizations need to decide whether they will be disrupted, manage the disruption, or want to lead the disruption. – Atle Skjekkeland
While digital transformation is one of the most frequently used catchphrases in the IT business, definitions diverge a bit. What we can all agree on is that, beneath the hype cycle, digital transformation means some pretty important changes to business culture.
To reap the full benefits of the transformation, business processes and document management practices will need to be automated. It is not enough to just implement a system for document or enterprise content management – the related processes are a critical key factor in successful digital transformation.
The ultimate goal of the transformation is to win, serve and retain customers. Therefore, bridging the gap between individual applications is a key element of digitization.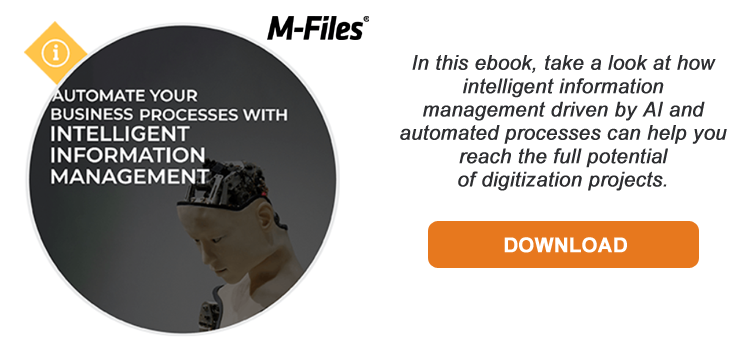 AUTOMATING BUSINESS PROCESSES AND DOCUMENT-RELATED WORKFLOWS IS CRUCIAL TO DIGITAL TRANSFORMATION
Digital transformation is here to stay. Yet, according to Forrester(1), many enterprises still struggle with this transformation. This is because many organizations still have a ways to go in automating operational processes around the customer journeys.
MANAGE INFORMATION & PROCESSES EFFICIENTLY
Organizations typically need to use several different solutions for different departments, processes and tasks. These single-purpose systems are usually unable to communicate with each other resulting in manual work and poor usability.
M-Files talks to your other systems, so you can find what you need from wherever you are. We integrate tightly with existing CRM, ERP and other business systems so that every bit of information you need is in one place. Automated workflows are powered by artificial intelligence to help you manage business processes efficiently. The platform is versatile, yet easy to use, and includes both ready-made solution templates for typical use cases as well as the ability to customize it your specific needs.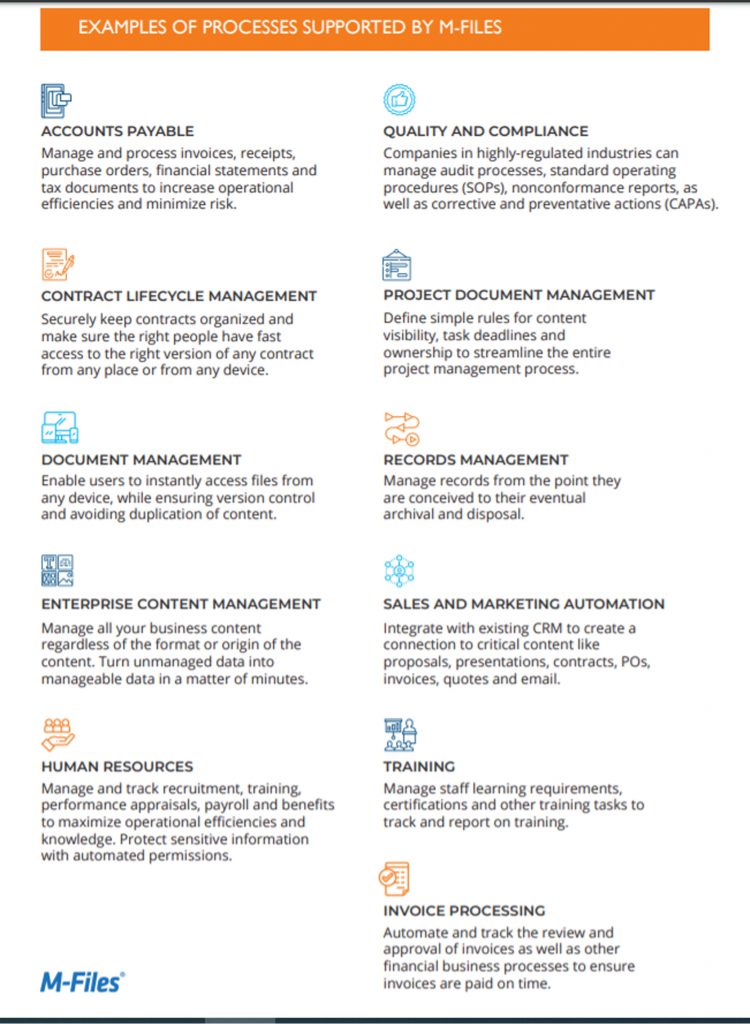 USE M-FILES TO MANAGE ALL YOUR BUSINESS PROCESSES
The M-Files platform is versatile and supports the needs of businesses — regardless of their size, industry or use case.
M-Files provides a next-generation intelligent information management platform that improves business performance by helping people find and use information more effectively. Unlike traditional enterprise content management (ECM) systems or content services platforms, M-Files unifies systems, data and content across the organization without disturbing existing systems and processes or requiring data migration. Using artificial intelligence (AI) technologies in its unique Intelligent Metadata Layer, M-Files breaks down silos by delivering an in-context experience for accessing and leveraging information that resides in any system and repository, including network folders, SharePoint, file sharing services, ECM systems, CRM, ERP and other business systems and repositories
Our team is happy to answer any questions you might have. Complete the form and we will be in touch as soon as possible.