Keep your data secure
Data security is a priority, whether you use M-Files in the cloud or run it on your premises. M-Files takes your privacy and data protection seriously and help you to ensure your content is not compromised. M-Files can also help you in fulfilling the technical requirements of several industry standards and regulations.
M-Files provide robust security features like market-leading access control features, audit trails, federated authentication, enterprise file encryption in transit and at rest, intrusion detection, data loss prevention, high availability and more.
Extensive security features
Certified reliability
Controlled access to content
High availability and fast recovery
Easy recovery
M-Files is hosted on Microsoft Azure, and can also be run on-premises on common virtualization platforms. You can always roll back to a previous version to recover from unintended changes. Moreover, standard users cannot destroy data in M-Files permanently, and the solution supports multiple fast disaster recovery features.
http://www.itclarity.co.za/index.php/products/m-files-cloud-vault
Access Control & Permissions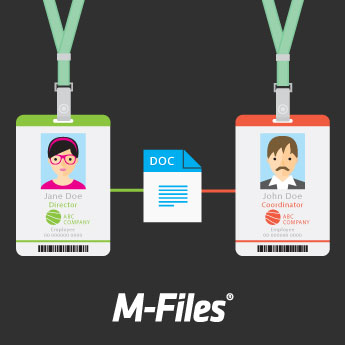 Metadata-driven automatic permissions: M-Files provides a patented and revolutionary approach to managing access control by what the content is.
Dynamic organizational permissions: M-Files supports access control schema changes due to organization changes with a few clicks. For example, change an employees metadata attribute to "Supervisor" to enable visibility of employee-related documents without having to update permissions document-by-document.
Secure content while making it accessible: It's important to keep your content safe while making sure everyone in your company has access to the files and information they need. However, well-specified access control policies are only efficient if users adhere to them. In M-Files, permissions are set automatically and dynamically based on metadata. Automate data security and accessibility for everyone and ensure that access control policies are enforced in the repository.
Permissions based content and context: With M-Files, you can set access permissions for entire classes of documents and data objects, as well as individual documents and objects, and even for different versions of the same document or object – including assigning roles that give different levels of access to different users or user groups, such as managers.
Focus on the important stuff: Your time is precious. The last thing you need to worry about is spending time manually establishing employee access rights to company information. M-Files reduces the demands for IT involvement by enabling those closest to the business need to easily configure the system to meet their requirements.
https://www.m-files.com/en/access-permissions
Encryption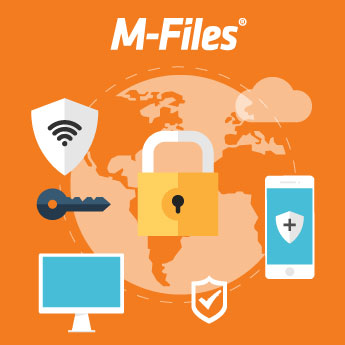 It is imperative that your data is fully protected whether it's being transmitted over a network or at rest so that no one gains unauthorized access to your information.
M-Files encrypts network communication between M-Files clients (M-Files Desktop, M-Files Web and M-Files Mobile) and M-Files Server via HTTPS, RPC, VPN or IPSec
M-Files encrypts data at rest with the AES-256 algorithm (compliant with the FIPS 140-2 standard)
M-Files supports database encryption via Microsoft SQL Server Transparent Data Encryption (TDE)
Data Loss Prevention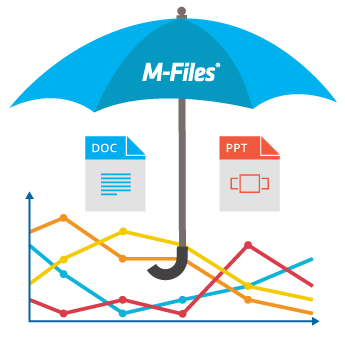 M-Files provides comprehensive data loss prevention mechanisms out-of-the-box:
Lost devices ≠ lost data: We provide guidance to help you safeguard data on individual client devices. Since all data in M-Files is stored securely on the server or in the cloud, no data is lost if an employee loses a laptop or fails to return a device upon leaving the company.
Preserve old versions: Preservation of old versions and the ability to revert back to previous versions is built into M-Files.
Check it out: Check-in and check-out functions, so you can keep track when a file is being edited and who is making changes.
No file backup? No problem: Easily control which users can delete documents and data. Deleted files and data can be quickly undeleted by administrators without having to restore backup files.
Backup: M-Files Cloud Vault users don't have to worry about backing up their data – we take care of it and can even provide regular offsite copies for independent storage. For on-premises deployments, we provide best practices to maintain backups of your data.
Track everything: View a change log of every version of a file that shows which user made edits, when they were made as well as other information about the lifecycle of the document.
Audit Trail
M-Files provides built in audit trail functionality to record key events like:
Automatic record of object events, such as object creation, modification and deletion
Information about who performed any operations and when they did it
Tracking of logins, logouts, password changes and user group changes
High Availability
High Network Availability: M-Files Cloud Vault servers are hosted in Microsoft Azure datacenters. The network in these datacenters contains no single points of failure. Additionally, numerous technologies are used to proactively monitor latency and load in the network.
Data Replication: For fast recovery in the event of hardware failure or other disasters, M-Files supports vault replication in additional geographic locations. In M-Files Cloud Vault, the data is replicated multiple times and automatic failover mechanisms are deployed to recover from hardware failures with no data loss or downtime.
Failover Solutions: M-Files Server can be run on common virtualization platforms, such as Microsoft Hyper-V and VMWare vSphere Hypervisor, allowing you to leverage the high availability features of those platforms. Additionally, M-Files Cloud Vault servers automatically failover to the secondary instance if the primary instance fails.
Authentication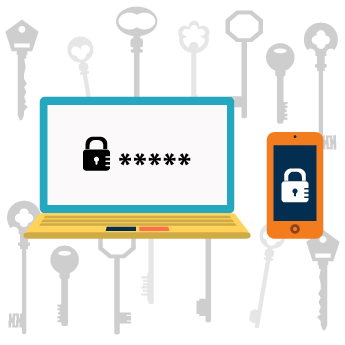 Deploying strict password policies, such as password complexity and expiration rules is a great way to improve data security. You can further strengthen data security of the authentication process with federated authentication, multi-factor authentication, and pre-shared key authentication in M-Files. M-Files supports authentication via any SAML V2.0 and OAuth 2.0 compatible Identity Provider (IdP).
We're ISO 9001:2015 Certified
M-Files provides high-quality information management solutions for customers in different industries. Understanding the different regulatory requirements that our customers need to comply with is one of our key strengths. Our Quality Management System has been certified against the ISO 9001:2015 standard for the design, development, delivery and support of our information management software and related services. As part of the certification process, our Quality Management System is regularly audited by an accredited external party to ensure compliance with the ISO 9001:2015 standard. In addition, our Quality Team monitors internal and supplier quality and continuously develops processes to ensure that we exceed the quality expectations of customers and stakeholders.
Build a Centralized Document Repository the Easy Way – with M-Files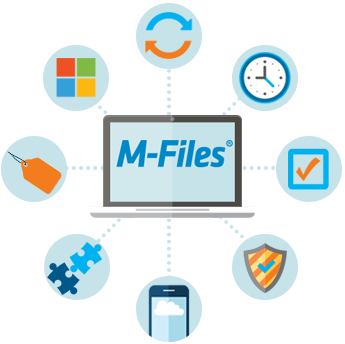 Centralized Document Repository
Storing your business assets in a centralized document repository is a smart idea that protects the corporate assets that support your business. M-Files makes it easy, by providing a secure, reliable document repository as a core component of our document management software. Best of all, getting your files into M-Files is as simple as saving them to a disk drive. That's because our document repository functions like a virtual disk drive. Simply drag and drop files to the M-Files drive or use the Save and Open commands from any Windows application…it's just that easy.
What Can Centralized Document Storage do for Your Business?
Reduce disk and file space needed for document storage
Maximize the value of your documents across departments
Simplify data backup and recovery
Prevent data loss from human error
Secure sensitive corporate information
Maintain centralized access to all your business documents
Reduce the Amount of Disk Space Needed for Document Storage
Storing files on desktops and on local drives can result in data redundancy and electronic filing chaos. M-Files gives you the advantage of a single virtual document repository that is shared between all your resources, so documents aren't duplicated across departments and you need less space to store it. All electronic documents in the vault are tagged and fully searchable, so document retrieval is fast and reliable.
Simplify Data Backup for Compliance and Due Diligence
Storing your digital documents in a centralized document repository makes it easy to perform daily backups, ensuring you'll always have your business-critical information duplicated in the event of downtime or disaster. M-Files simplifies the process with automatic backups of the vault.
Leverage Your Full Knowledgebase for Competitive Advantage
Because the M-Files document repository puts all your corporate assets in one location, it's easy to collaborate with internal and external entities. Authorized users simply search and retrieve documents based on content. There's no need to email important documents back and forth, and there's no chance you'll miss information critical to the task at hand.
Secure Your Most Sensitive Data
Don't risk sharing your intellectual property through email or allowing employees to access it without proper control. Take control of your sensitive corporate information by storing it in the M-Files document repository, where you can customize and control who can access, view and edit it. Much safer than local drives or thumb drives, the M-Files document management system features authentication and password protection to ensure that documents are accessed only by authorized users.
Minimize the Risk of Data Loss Associated with Human Error
Accidental deletion of data and files is all too common, but it's completely preventable when your data is centralized and secured. The M-Files document repository includes check-in and check-out procedures that prevent multiple users from editing the same document concurrently. And all past revisions of business documents are saved so you can quickly access old versions or recover files in the event of an accidental deletion.
Centralize and Manage All Your Corporate Assets, Including Email
Compliance regulations require that emails and attachments be backed up and retrievable in the event of an audit. M-Files can be configured to automatically save incoming and outgoing correspondence in the document repository. Once saved in the vault, emails and attachments can be classified with appropriate tags, key terms and metadata, just like any other document or object type.
With M-Files, You Can Centralize and Secure All Types of Files in Your Document Repository:
Microsoft Office documents
Emails and attachments
Scanned documents
PDF files from any application
Data from external databases
CAD files
Pictures and graphics
Who Can Benefit from Centralized Document Storage?
Law and accounting firms
Medical practices and healthcare organizations
Architecture, engineering, construction and manufacturing firms
Any business that has EDMS and records retention and audit requirements
Our team is happy to answer any questions you might have. Complete the form and we will be in touch as soon as possible.