OPTIMISE YOUR GROWTH BY CENTRALISING YOUR CLIENT COLLABORATION
Impress your legal clients with customised branded portals, catering to their specific needs and protecting their sensitive documents.
Document Sharing
Exchange confidential documents with your clients and partners, in a secure space synchronised with your DMS. Upload large files from your hub.
Present your clients, partners, and colleagues with all the content they need in one secure and accessible place. Preview files, download or print and search through all the files content using our powerful advanced search tool.
Upload files directly into the files module or integrate with your Document Management System for a seamless workflow. Add documents to folders and administer strict granular rights to control and manage who has access to folders and files and what can be done with them i.e. download.
Send files securely to clients without adding them to a Hub by generating a link to individual or grouped files with an optional password for extra security. Add a time-limited expiration date, administer access rights to your sender and receive an email notification when it opens.
Extranet
Invite your clients to a secure space where you are available to communicate on ongoing matters. Securely collaborate and share information with clients in one powerful extranet portal.
Be confident your sensitive data is kept secure using Hubshare's granular rights, by setting restrictions for specific users or groups to limit what they can view, download, edit etc. Visualise your projects over time, follow their progress in real time and communicate with your team to meet deadlines. Everything in one accessible platform for a streamlined workflow.
Choose the implementation model you want depending on your preference and data compliance regulations. If you host Hubshare on the cloud, choose from one of our 5 secure servers on Microsoft Azure in either UK, France, USA, Australia or Canada. Alternatively, opting for an on-premises deployment, offers you with the control to decide where your data resides.
Internal Collaboration
Share internal knowledge, to accelerate projects and become efficient. By easily accessing knowledge stored in a Hub, teams can keep up to date with project deadlines, case law and internal policies.
Customise and brand your dashboard so that you share internal information or to reinstate company values and boost team morale. Add your widgets of choice and embed iFrames to display content from external web pages.
Communicate internally on projects, documents and ideas with various departments in your company. Add comments to documents or share a discussion with your team to build a knowledge base and track changes.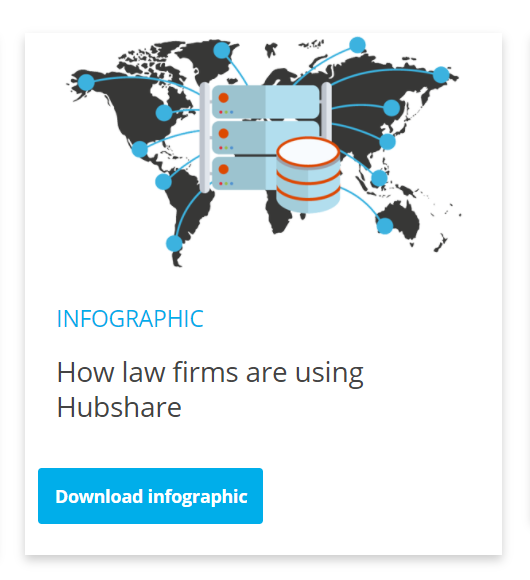 Manage changes to documents and provide your clients and/or team with the most recent version, whilst keeping track of your paper trail.
Schedule meetings with your clients

Our team is happy to answer any questions you might have. Complete the form and we will be in touch as soon as possible.